ANNE FINE
This is the official web site of Anne Fine, the second Children's Laureate and a distinguished prize-winning writer for children of all ages, with over forty books to her credit. She has also written for adults to considerable critical acclaim. This site has news and information about Anne, and showcases her books.
Philosophy in the classroom?
"How do I know that this is not a dream?"
"Is it always wrong to lie?"
"Would I be me if you scooped out my brain and put it in someone else's body?"
Anne Fine says: "I love writing books for juniors - whom I take to be anybody between seven and eleven. They're bright enough to catch on to any ideas or jokes I want to get over. In this new comedy, On Planet Fruitcake, I'm trying to introduce the notion of critical thinking. But this is a very normal classroom in a very normal primary school. So, as you can imagine, tempers run high at times and chaos ensues."
Read more about On Planet Fruitcake, and what Anne says about it.
Bill's EXTRA New Frock
Egmont Press has prepared a treat for Apple users: Egmont Extras are a range of enhanced books that offer exclusive content to the reader - and one of the first books to get the "Extra" treatment is Bill's New Frock!.
This funny and thought-provoking book has been a hit since it was first published: it won a Smarties award straight away, and then in 2012 was chosen by young readers in Leicestershire as their favourite title from a shortlist selected to reflect the Olympic values: Inspiration, determination, courage, respect, equality, friendship and excellence.
Now readers can use new technology to explore both the full, original text and additional, never-seen-before author interviews and readings that aren't available anywhere else. Egmont Extras are available now from the iBookstore on iPad, iPhone and iPod Touch, or at www.iTunes.com/iBookstore.
Read more about Bill's New Frock.
Join the Club!
Anne Fine has a message for everyone who loved Nag Club. No, it's not a sequel, but - well, this is how Anne explains it:
"Nag Club has been a really successful book, chiming in as it does with young readers' own experiences of trying to wheedle things out of their parents by persistent or imaginative nagging. Everywhere I went, children were saying, 'Oh, please tell another story about Nag Club.'
"I'm hopeless at writing the same thing over and over. But one day I was thinking about an only child I know who's never had a squabble at the kitchen table about whose turn it is to get the free gift in the cereal, who's never bickered with a sibling all day long about nothing, who's never had to put up with a brother or sister carelessly damaging something he treasures.
"And I thought, how about a book about Only Children who - just for once, maybe only even just for one day - want to see what it's like...?"
So if you want to see what it's like, have a look at The Only Child Club!
A different kind of family
Anne Fine writes brilliantly about all kinds of families: "I'm fascinated by families," she says. There are the kind you'd quite like to be part of, even if they do cause chaos wherever they go - as the Mountfield family do in Trouble in Toadpool. And then there are the kind you can't wait to get away from. But can you ever really escape from your family?
Anne's latest book, Blood Family, asks how important blood family is in making you who you are. Edward is four years old when he is locked away with his mother by her abusive, alcoholic partner, Harris. By the time an elderly neighbour spots his pale face peering through a crack in the boarded-up window and raises the alarm, he is seven.
Edward is sent to live with a kindly foster family, and then adopted, but it's still clear to his new family and schoolmates that there's something odd about him. Who are his real family, and what sort of person will Edward grow up to be?
"Blood Family is almost a companion piece to The Devil Walks," Anne explains. "I'd become interested in the difference between the sheer chance of where an unprotected child could end up a hundred years ago - for better or worse - and what happens now."
The Reading Zone called Blood Family "intense, truthful and perfectly crafted"; in The Guardian, Tony Bradman compared Anne Fine to "a difficult relative", and to Johnny Cash - in a good way! Read the review to find out why.
Read more about Blood Family here; and if you're looking for a story about a happier family, Trouble in Toadpool is now available in paperback!
The Killer Cat Runs Away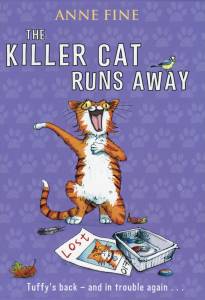 OK, OK. So I spat at the stupid baby.

Meet Tuffy, the Killer Cat.
You thought you already had? Is that because you've read the books in which he causes such awful mayhem? (The Diary of a Killer Cat, The Return of the Killer Cat, The Killer Cat Strikes Back, The Killer Cat's Birthday Bash and The Killer Cat's Christmas.)
Well, now he's back. Not spruced up, exactly. I wouldn't go that far. Steve Cox has handed over the illustrations to Thomas Docherty, so if you think that he looks a tiny bit different, you're right. But inside he's the same old Tuffy - driving Dad crazy, upsetting Ellie, and leaving the usual trail of chaos wherever he goes.
And in this book Tuffy does go a whole lot further than usual. Find out what happens when he decides there must be somewhere in the town where he'll be appreciated more, and treated better ...
Julia Eccleshare, in The Guardian
More about The Killer Cat Runs Away.
---